WINDS OF CHANGE, BHIMALE COMPLEX IS REALITY TODAY
BHIMALE COMPLEX is a Slum Rehabilitation project, located at plot no.12,13,14,15, S.no.589B Bibwewadi, Sandeshnagar, Pune - 37. We have created lifestyle homes and not just SRA Scheme tenements. Today, 120 families residing in the makeshift temporary structures await the possession of their beautifully built homes.

We have tried to change the mindsets of the people associated with the SRA Schemes.

The most common assumption was, being a Slum Rehabilitation project it would not be a quality construction. But, today we can boast of having created a best structure in the segment. Yes, our SRA Project can be compared to any of the budget home constructed by the renowned builders of Pune.
WITHIN BUDGET BUT ABOVE EXPECTIONS
When we presented our plan, we were warned of facing losses and termed as irrational thinkers. We were also advised to go with the flow. But, we proved them all wrong by putting in our expertise thinking and experience in cost saving construction. 

Our positive approach helped us utilize resources available within our reach and powers. Minimum wastage and maximum utilization, right from space to the waste everything was preplanned and was put to the best use.

It was not only a challenging project but also a unique one of its kind. We call it a challenging project, because of the involvement of the slum dwellers, shifting them into transit camp and timely completion of the project. We had taken it up as a challenge to complete the work in record time, without compromising on quality.
FACTS & FIGURES:-



• 43% OF PUNE'S POPULATION LIVE IN SLUMS.
• APPX. 2,10,000 FAMILIES RESIDE IN 564 SLUMS SPREAD IN VARIOUS POCKETS OF CITY.
• PUNE & PCMC SLUM REHABILITATION AUTHORITY FORMED IN 2005.
• 269.00 SQFT (25.00SQM) CARPET AREA FOR EACH TENAMENT`
SPECIFICATIONS:-



• High Polished Green Marble for staircase treads.
• Kitchen platform in Green marble with S.S. sink.
• Natural Stone Flooring for Entrance lobby .
• Rough Shahbadfor parking Flooring.
• Teakwood Door Frame for Main Door.
• RCC Doorframe for Toilets and Bathrooms.
• 1KV Geyser point Provision in Bathroom.
• Modimake switches, Polycabwires.
• Rubber mould paving Blocks for side margin flooring.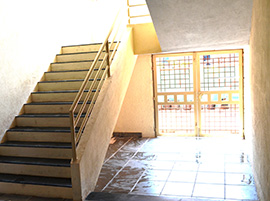 High Polished Green Marble for staircase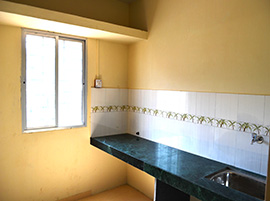 Kitchen platform in Green marble with S.S. sink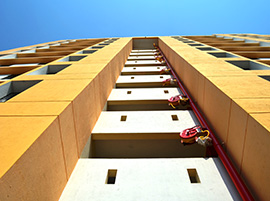 Fire Fighting Line